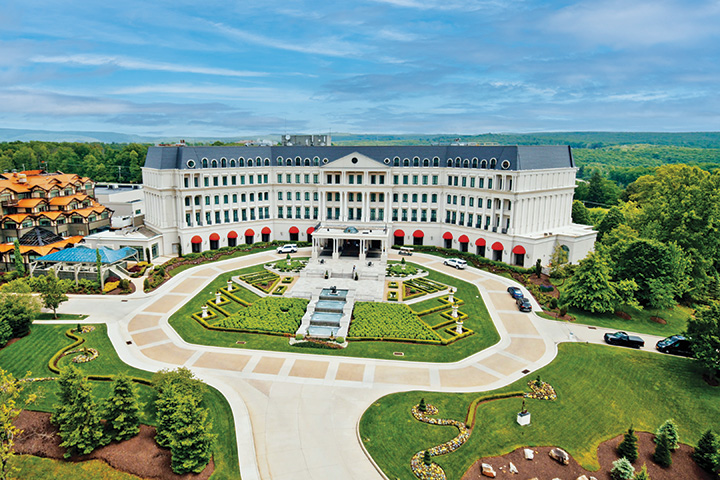 Bret Campbell Takes Sustainability Efforts to the Max
As its new director of sustainability, Bret Campbell joins Nemacolin at a pivotal moment in redefining what going green really means.
---
Bret Campbell
Director of Sustainability
Whatever you're thinking this might be, you need to think bigger. The first phase of the build includes 33 planned homes and a recreation center that houses a bar and gym. Eventually, amenities will include a basketball court, outdoor recreation area, and Olympic swimming pool. There will be fitness classes, yoga classes, trivia and bingo nights, and canning, pickling, and cooking classes. A free shuttle will also be available for associates going to and from work at the resort.
The Market at Wisteria offers a 25 percent discount to employees, the only people allowed to shop there, and the multiethnic representation of Nemacolin's staff is taken incredibly seriously.
"We want people to know this position exists, that this organization has someone dedicated to sustainability, and that I am accountable for building consensus across the organization."
"Our market includes items like several cuts of goat and plantains, and items such as oxtail, chicken's feet, and any other item that is requested by our staff will be integrated into the offerings," explains Bret Campbell, director of sustainability for Nemacolin. "We're providing high-quality organic local products as well as international products so that our associates can have food they're accustomed to and therefore provide better service."
Campbell says the investment was made by Maggie Hardy with absolutely no expectation of recouping the spend. This sort of thing—an entire community created for a workforce of 1,300 (at its seasonal height) who wouldn't have access to a gym, stores, or recreational opportunities for miles—just does not happen.
---